Biomes ‣ Crystal Quarry Biome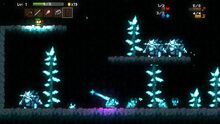 The Crystal Quarry Biome is available as early as the 8th district. It is a new biome introduced as of Magicite 0.9. This biome includes a spinning crystal trap and three unique monsters.

Crystalized Hero Starts out as an invisible sparkle until approached. Attacks with 

ranged magic. Drops the Crystal Bow unique item.